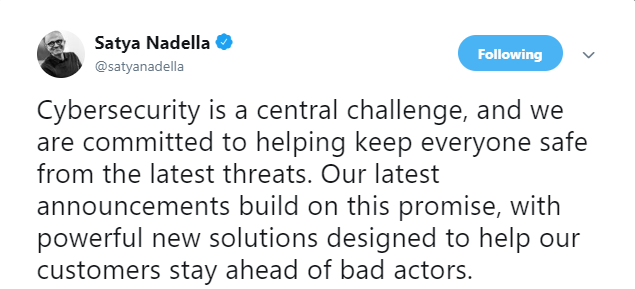 Satya Nadella tweeted today unveiling two new cloud-based technologies in Microsoft Azure Sentinel and Microsoft Threat Experts.
Cybersecurity is a central challenge, and we are committed to helping keep everyone safe from the latest threats.  Our latest announcements build on this promise, with powerful new solutions designed to help our customers stay ahead of bad actors.
Microsoft brings to focus how Cybersecurity is about people, pinpointing that an estimated shortage of security professionals by 2021 will cap 3.5 million.  The new tools announced today will unlock the power of the cloud and AI to combat threats and help the shortage.
Azure Sentinel was built from the ground up with Microsoft working closely with dozens of customers and partners to design a better security solution.  They also take a shot at traditional SIEM tools being unable to keep pace and taking to long to detect and diagnose threats.
Azure Sentinel supports open standards such as Common Event Format (CEF) and broad partner connections, including Microsoft Intelligent Security Association partners such as Check Point, Cisco, F5, Fortinet, Palo Alto and Symantec, as well as broader ecosystem partners such as ServiceNow.
Microsoft Threat Experts is a service within Windows Defender ATP, it will proactively hunt over your anonymized security data for the most important threats, such as human adversary intrusions, hands-on-keyboard attacks, and advanced attacks like cyberespionage—helping your team prioritize the most important risks and respond quickly.
They will also be adding an "Ask a Threat Expert" button to the ATP console for techs to submit questions.
More info to come here when we test the public preview.  Below is the screenshot shown by Microsoft.